WHO USES OUR COURSES
Why choose BioBeyond?
Our partners are leaders
Inspark Science Network partnered with Arizona State University's Center for Education Through eXploration in the development of course curriculum.

Proven to improve student outcomes
Independent evaluator showed an increase of up to half a letter grade compared to traditional textbooks.
Read more
Helping today's college students.
The Bill & Melinda Gates Foundation awarded Smart Sparrow a grant to develop the Inspark Science Network Smart Courses.
Higher end-of-course grades
SRI Education, the independent evaluator for the Gates Foundation-funded Next-Generation Courseware Challenge, estimated the impact on students' end of course grades, for 1,800 students at 4 institutions, of the BioBeyond Smart Course (19 sections) compared to business as usual instruction (BAU; 8 sections). Results, based on analysis of course grades and controlling for prior cumulative college GPA, and other demographic and administrative variables, show a statistically significant positive impact on grades for three of the four institutions (p < .05). The statistically significant improvements were roughly half a letter grade (+0.42 and +0.46 on a 0–4 scale with 4.0 being an A) for Arizona State University (fully online) and Miami Dade College respectively (blended/hybrid), and +0.26 for Mohave Community College (blended/hybrid).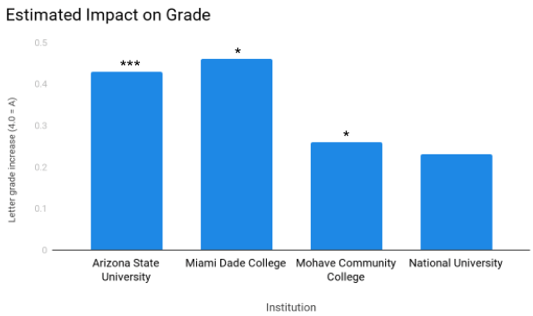 Explore BioBeyond